Although the sanctuary is famous for the variety of birds, we saw lots of alligators there, for the first time in Florida, as we were gradually descending along the Gulf of Mexico coastline. "Florida Birdwatching: Corkscrew Swamp" about the place mostly Floridians know.
Corkscrew Swamp Sanctuary is a National Audubon Society sanctuary. It was established to protect the last virgin bald cypress in the world from being logged out. The swamp located in Southwest Florida:
Florida Birdwatching: Corkscrew Swamp
Main Attraction: boardwalk
The main attraction in the Corkscrew Sanctuary is the 2.2 miles long boardwalk.
Thanks to the boardwalk we were able to enjoy an amazing piece of untouched Florida: Bald Cypress forest, wet prairie, swamp, and jungle:
Florida Birdwatching: Corkscrew Swamp. The rules.
1. All visitors pass through the Blair Audubon Center before entering the trail. Currently, due to Covid-19, ADVANCE ONLINE RESERVATIONS REQUIRED. NO WALK-INS ACCEPTED.
You pay the admission there ($0-$17), can watch a movie about the swamp, and take a look at the exhibits:
2. There are no restrooms along the boardwalk trail. Use the one at the parking lot or at the Blair Center.
If you are traveling with little ones, take a stroller/baby carrier/Strider. The hike took us 3 hours with plenty of stops.
3. Please follow the rules.
The swamp is fragile and many of the species you'll see are threatened or endangered. The one thing that isn't mentioned on the sign in the picture below is "no drones":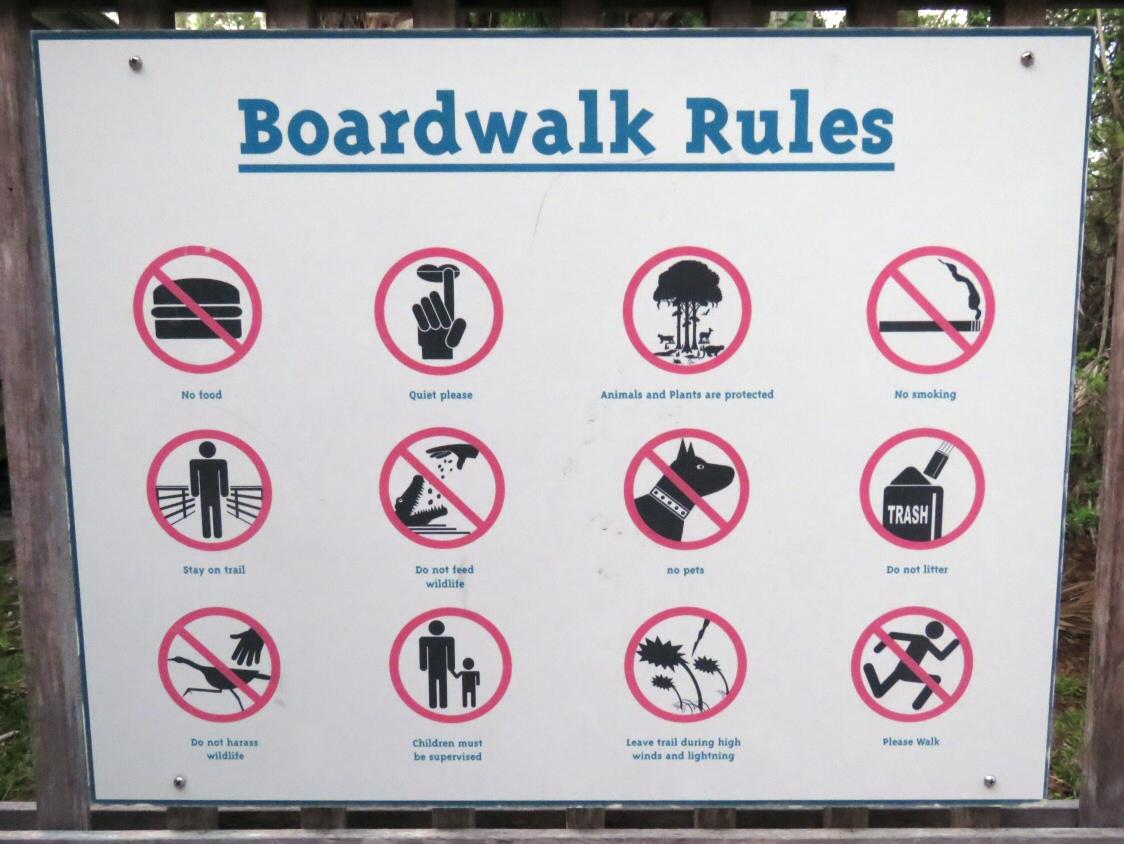 On the Corkscrew boardwalk
The Corkscrew boardwalk loop trail is 2.2 miles long. If you wish, you can take a shorter route: only 0.7 miles (approximately 90 minutes of leisure walk with all stops).
Beautiful Northern Needleleaf, an air plant, pictured below, one of many subtropical air plants only found in Southern Florida.
Soon after flowering, it will die, sending the seeds in the air to root at another tree. It is considered threatened in the state of Florida due to habitat loss and illegal collection.
Birdwatching at Corkscrew
In the deep forest, saw many small birds, such as Warbler, in the picture below:
and Red-bellied Woodpeckers:
Grey Catbird:
The picture of the most desirable small bird, Painted bunting, wasn't good so I made it:
It can be seen at Corkscrew Swamp throughout the year!
If you look closely, you may spot some snakes, like this one:
Only 6 out of 45 species of snakes found in Florida are venomous. Most of the snakes are harmless and beneficial for the environment. They don't attack humans unless they feel threatened: stepped on, chased, etc.
Below a picture of one of the observation platforms. No wildlife was seen, but it was a nice place to rest among all the wilderness:
We almost started to complain about seeing "no big birds and animals", then this group of birds showed up:
Then really close, huge, beautiful – the great white egret:
And the big guy "with a funny head" as our son said – Wood stork:
Over crispy white fluffy body, the scaled plate covers and protects the bird's neck and face. A pretty unusual bird. Corkscrew Swamp is the largest nesting colony of Federally Endangered wood storks in USA.
Most of the wildlife was around remaining water. Seems like anhinga (black bird) is saying something back to egret (white bird):
Florida Birdwatching Corkscrew Swamp. American Alligators
Majority of alligators were at this pond:
One of the biggest surprises for us was that birds didn't pay any attention to the alligators. Seemed like they weren't afraid of being eaten at all:
Another sleepy guy nearby:
We called the swamp the "Alligator Place".
One of the many White ibises:
Alligators are amazingly masking in the environment, and could be invisible, if you are looking from some distance and don't pay close attention:
Baby alligators, masters of camouflage as well:
If those babies survive the first 2 years, they will likely live another 48! A mature alligator ranges between 6-12 feet long, while some males can reach 14 feet long!
There are more than a million alligators in Florida.
Florida Birdwatching: Corkscrew Swamp. Amazing Anhinga
Anhinga in this posture is a common sight in Florida:
The bird looks pretty unusual and is also called "snake bird" or "water turkey".
Unlike other water birds, she has to dry her wings after each dive and …reheat her body under bright sunlight. Anhingas have an unusually high rate of heat loss and no oil glands to protect their wings from becoming wet.
Anhingas are amazing hunters and swimmers, sometimes mistaken with snakes when only their neck sticks out of the water:
Anhinga and her chicks:
Florida Birdwatching Corkscrew Swamp. A bit of History
Until 1900 just a few people outside Florida knew about Corkscrew Swamp. It was the time when heron and egret plumes were at the top of demand for expensive and fashionable woman's hats.
Bird rookeries throughout Florida were devastated at an unbelievable speed, including Corkscrew Swamp. Rhett Green was one of the first officially employed guards who successfully protected the local birds.
Half a century later, active logging started at the Corkscrew Swamp to assist in rebuilding Europe after the Second World War. After some time, locals became alarmed: 500-year-old trees were pulled out so fast, it was threatened with extinction.
Many people were involved in raising funds to purchase environmentally important land. Their tireless efforts were paid off by securing 5.680 acres and Corkscrew Swamp became known as Corkscrew Swamp Sanctuary
Cypress "knees" at Corkscrew Swamp
It isn't "just trees", but the last and largest expansion of virgin cypress in the world. The unusual thing about local cypresses is their "knees": roots that grow upwards! Odd-looking, they usually grow 2-4 feet high but can reach up to 14 feet high.
Their origin and purpose are still unknown. Roots aerating and supporting the tree in unstable, muddy soil are the top two explanations.
Corkscrew Swamp. Time to visit
We were visiting the swamp in the middle of April – at the very end of the dry season in Florida. A few days later we were told by the guide at the Everglades NP that it was the right time of the year.
Why? The swamp was dried out and animals were attracted to the remaining spots of water, instead of being scattered around 13,000 acres.
Good to know
While we didn't run into them during our visit, yellow and deer flies can be an issue at the Corkscrew Swamp.
The season of flies lasts from March to November with peak months from April till June. Even strong repellent like DEET may not help. The best protection is to cover all exposed areas of your body.
Must Haves at Corkscrew Swamp
Water
Bug spray, mineral sunscreen, please, (chemical ones killing the reefs).
Binoculars and camera
Long sleeves and long pants, a hat
Patience 😉 (spotting wildlife is a matter of luck)
---
P.S. The movie and book about Florida for kids and families
"Dolphin Tale" is a heartwarming and inspiring movie about friendship and rescuing a dolphin; based on a true story. Don't be surprised if your kids will ask to be homeschooled and live on a boat in Florida! 😀
A great choice for older kids is Kate DiCamillo's book (and the movie as well) "Because of Winn-Dixie". A great introduction to living in Florida through the eyes of 10 y/o, her challenges, and joy.
Thanks for reading, I hope you enjoyed the virtual trip around the Sanctuary 🙂
Read next:
Manatee tour being pregnant and with 5 y/o
Florida Unique Experience: Everglades National Park